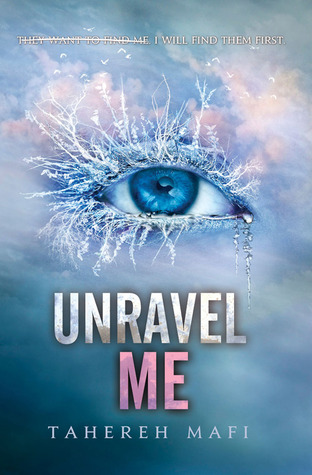 I decided to pick up the second book in the Shatter Me series, it happened. Unravel Me is the sequel to Shatter Me which follows our heroine Juliette and she just so happens to have the ability to kill with just her touch. Now, this is the second book in a series so go check out my review of
Shatter Me
to see my thoughts on how the series began.
Now, I think I enjoyed Unravel Me. It was entertaining but I wasn't super invested in the story. I think one of my biggest issues with this series is that I don't click with the writing style. I find the author over used metaphors and it got tedious to read. However, I know many people really enjoy this style but I am just not a fan. No shame, I like what I like. What I did enjoy was the twists and turns this book delivered. There was definitely some VERY exciting plot revels that I honestly didn't see coming. That is what kept me going throughout the novel. I really enjoyed how the story built and am excited to see where it is going.
The other thing that bugs me at times throughout the book is the romance. There is a major love triangle developing which I find is a plot line that is way to overused in YA. Realistically, how many people have really been in an intense love triangle? Very few. However, I can understand why this one is building. In one corner you have Adam, the guy that Juliette really loves and cares for. Then you have Warner who she has a passionate connection with, BUT is also kind of the villain (Or maybe a developing anti-hero). Both of these guys and their relationships with Juliette bother me. Adam holds Juliette back from reaching her full potential, while Warner is very obsessive over her. I don't think either of these guys are right for Juliette, and I would rather her dump them both and be a strong independent women.
Conclusions: Overall, I enjoyed Unravel Me but wasn't blown away. The plot is interesting and I am very interested to see how this series wraps up in Ignite Me. However, I don't gel with the writing style. I would also like to say that this is a romance book in a dystopian world. I really focuses on the romance, which can be a good or bad thing depending on what your are expecting or looking for.As long as you are in the mood for some romance, this is a good option. I do enjoy this series, I don't love it but I would recommend to YA lovers.
Rating: 3.25 / 5
(Unravel Me - If X-Men was a romance)