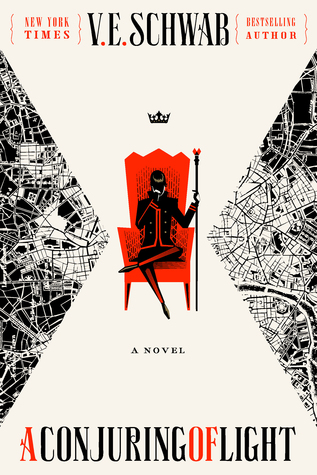 Genre:
Fantasy
Series:
Shades of Magic #3
Publication:
2/21/2017 by Tor Books
Pages:
642 Pages
Format:
Audiobook
Rating:
5 out of 5 Stars
Goodreads
|
Amazon
|
Book Depository
Goodreads Summary:
Witness the fate of beloved heroes - and enemies.
THE BALANCE OF POWER HAS FINALLY TIPPED...
The precarious equilibrium among four Londons has reached its breaking point. Once brimming with the red vivacity of magic, darkness casts a shadow over the Maresh Empire, leaving a space for another London to rise.
WHO WILL CRUMBLE?
Kell - once assumed to be the last surviving Antari - begins to waver under the pressure of competing loyalties. And in the wake of tragedy, can Arnes survive?
WHO WILL RISE?
Lila Bard, once a commonplace - but never common - thief, has survived and flourished through a series of magical trials. But now she must learn to control the magic, before it bleeds her dry. Meanwhile, the disgraced Captain Alucard Emery of the Night Spire collects his crew, attempting a race against time to acquire the impossible.
WHO WILL TAKE CONTROL?
And an ancient enemy returns to claim a crown while a fallen hero tries to save a world in decay.
My Thoughts
This book is everything. I am obsessed with this series and this finale exceeded my expectations! I was on the edge of my seat the entire book, hoping that all my babies make it through. Everything comes to a head in this last book and stakes are raised. It's been ages since I have been obsessed with a series like I am with this one.
The characters in this series are amazing. I loved every single one of them. I even came to love one character that I didn't think was even possible to love. V.E. Schwab knows how to write a character that you shouldn't love but you just do. This book also has great representation of LGBT characters and their romance was everything you want in a good romance.
I listened to this book on audiobook. The narrators for this book were fantastic and I highly recommend it. I finished listening to this book as I walked into school and I let out an audible squeal. Which everyone around me heard and looked at me like I was crazy. I will recommend this series until the cows come home. I can't wait to start re-reading it.