Genre: YA Contemporary
Published: 03/1/12 by Amulet Books
Pages: 295
Format: Paperback
Rating: 4 out of 5 Stars
Goodreads | Amazon | Book Depository
Goodreads Description:
Greg Gaines is the last master of high school espionage, able to disappear at will into any social environment. He has only one friend, Earl, and together they spend their time making movies, their own incomprehensible versions of Coppola and Herzog cult classics.
Until Greg's mother forces him to rekindle his childhood friendship with Rachel.
Rachel has been diagnosed with leukemia—-cue extreme adolescent awkwardness—-but a parental mandate has been issued and must be obeyed. When Rachel stops treatment, Greg and Earl decide the thing to do is to make a film for her, which turns into the Worst Film Ever Made and becomes a turning point in each of their lives.
And all at once Greg must abandon invisibility and stand in the spotlight.
My Thoughts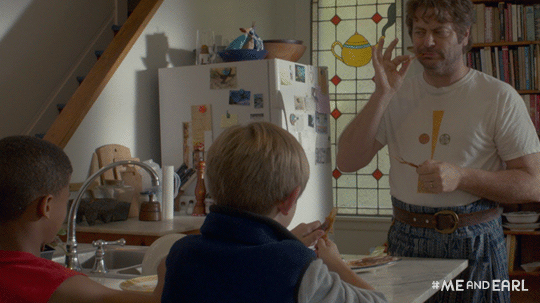 I couldn't resist reading a book that will be a movie that is going to give me more Nick Offerman GIFs. I was so excited to read this book and it's been on my TBR for years now. So I picked this one up on my weekend vacation and was super excited to get into it.
I wasn't let down by Me and Earl and the Dying Girl. It is my perfect kind of humour and I really clicked with Greg, our leading man. He seems like a normal dude, a bit weird, but could be a real person. I feel like we would get along in real life. However, I can see how this type of humour isn't for everyone and you often feel second hand embarrassment for Greg. But Greg isn't perfect, which makes the story feel more realistic. He says dumb things and can be a jackass, but he's also a nice guy and can really care about others. However, this book didn't blow me away. It was very enjoyable but didn't change my life. Definitely worth the read if you love a little humour in your contemporary. It does have the cancer aspect so if you're a crier expect a few tears.
Conclusions: 2 thumbs up. Excited to see the movie now.