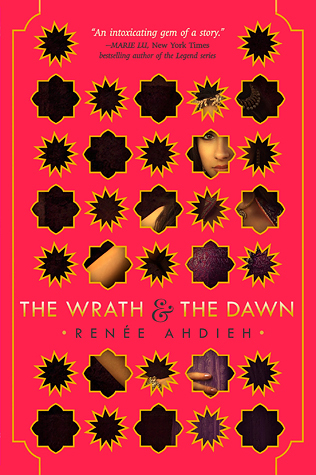 Genre:
Young Adult, Fantasy, Retelling, Romance
Published:
05/12/15 by G.P. Putnam's Sons Books
Series:
The Wrath and the Dawn
Pages:
388
Format:
Library Hardback
Rating:
4 out of 5 stars
Amazon
|
Goodreads
|
Indigo
Goodreads Summary
Every dawn brings horror to a different family in a land ruled by a killer. Khalid, the eighteen-year-old Caliph of Khorasan, takes a new bride each night only to have her executed at sunrise. So it is a suspicious surprise when sixteen-year-old Shahrzad volunteers to marry Khalid. But she does so with a clever plan to stay alive and exact revenge on the Caliph for the murder of her best friend and countless other girls. Shazi's wit and will, indeed, get her through to the dawn that no others have seen, but with a catch . . . she's falling in love with the very boy who killed her dearest friend.

She discovers that the murderous boy-king is not all that he seems and neither are the deaths of so many girls. Shazi is determined to uncover the reason for the murders and to break the cycle once and for all.
Review:
This book seriously makes me want to watch Aladdin again.
The Wrath and the Dawn is a fun, exotic, and interesting retelling of 1001 Nights. Even though I don't really even know the original... oppies. Ever since starting this book I have had the song "
Arabian Nights
" from Aladdin stuck in my head. I did really enjoy this book. My biggest problem with it was that I found the beginning quite slow. I wasn't invested in the story or the characters until after the first 1/4 of the book. However, I did eventually buy into the story and thoroughly enjoyed it.
I am a sucker for romance, I accept that as a fact in my life and don't deny myself cheesy romance. I really enjoyed Shazi and Khalid together, it might not be the easiest romance to buy into but I really enjoyed them. They definitely have chemistry, and you can really tell from the way the author described them together. However, I am going to be super annoyed if there is a love triangle going on in the next book. Shazi and Tariq have history but she knows she loves Khalid and doesn't feel any connection to Tariq anymore.
Shazi is also a strong female character which is really good to see. She doesn't have to become strong, she just is from page one. I liked seeing her be brave at every turn because becoming Khalid's bride was incredibly brave. I also like how she doesn't want to be Khalid's possession, I am like that in my relationships too so I loved seeing that. Khalid is your fairly typical distant romantic interest. You know he is keeping a secret and most of the book which you are craving to find out what that is. I did like this plot point, I kind of guessed it early on but I still enjoyed it. You really learn why he is the way he is and you definitely feel for him.
One thing that I really loved in this book was the description of the food they were eating. OMG, it made me starving. I have been craving flat bread dipped in oil for days now. If Renee Ahdieh gives up on fiction, she could make a killing as a food blogger.
Conclusion:
The Wrath and the Dawn was pretty awesome. I can see why so many people enjoy it. If you love romance with substance this is for you. I can really see this book taking some interesting turns in the next instalment. I would definitely recommend this book, 2 thumbs up!