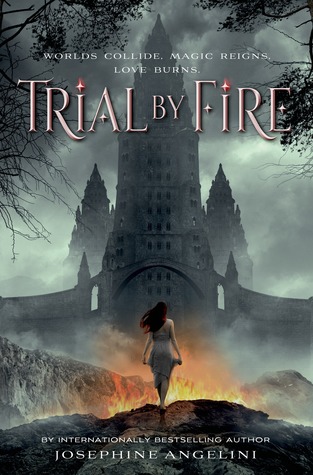 Genre:
Young Adult Fantasy
Published:
09/02/14 by Feiwel & Friends
Series:
The Worldwalker Trilogy
Pages:
374
Format:
Library Hardback
Rating:
3.25 out of 5 Stars
Amazon
|
Goodreads
|
Indigo
Goodreads Summary
This world is trying to kill Lily Proctor. Her life-threatening allergies keep her from enjoying experiences that others in her hometown of Salem take for granted, which is why she is determined to enjoy her first high school party with her best friend and longtime crush, Tristan. But after a humiliating incident in front of half her graduating class, Lily wishes she could just disappear.
Suddenly, Lily is in a different Salem—one overrun with horrifying creatures and ruled by powerful women called Crucibles. Strongest and cruelest of them all is Lillian . . . Lily's other self in this alternate universe.
What makes Lily weak at home is what makes her extraordinary in New Salem. In this confusing world, Lily is torn between responsibilities she can't hope to shoulder alone and a love she never expected.
My Thoughts
Look at me, finally finishing a book!
Trial by Fire took me forever to read. Not because it was bad but just because it did. Happens to the best of us. I enjoyed the ride that this novel took me on. It was very different from most of what I had read and it has witches. Very powerful witches.
There were things that I really enjoyed about Trial by Fire and there were things that I didn't enjoy. I found that the narration of the story was confusing at times. It is told in Third Person but sometimes I feel like it switched to First Person and I got confused. Mostly it was third person which was refreshing at times. I enjoyed seeing multiple views without hearing everyone in first person.
Now onto the plot, which for the most part I did enjoy. It follows Lily, who ends up being brought into an alternate version of Salem. My biggest problem while reading was that I didn't completely understand WHY she was brought into this world. I feel like there wasn't a solid reason, or if there was one I missed it.
The romance however was awesome.
It was exactly what was needed and worked well with the story. You can understand the motives of both the characters. In addition, there is some bromance that adds to the storyline. I enjoyed the side characters and all the magical elements. Very interesting.
I am a bit unsure of the science element in this novel. On one hand I absolutely loved it, I have my Bachelor's of Science and really enjoyed the use of the laws of thermodynamics in this novel. However, the villain was a crusade to eliminate science. Which I don't know if I liked. I love science and I makes me worried when fiction creates misconceptions about some of our greatest developments. I hope people know this a fictional world and before you draw conclusions please research the science in our world.
Conclusions:
Grips aside this was a very interesting novel and I am very interested to see where the series goes. I found the magic system unique and I am attached to some of the characters. The second book in this series comes out in September and I will definitely be picking it up.