Stacking The Shevles is a weekly meme hosted by Tyngas Reviews.
I happened to come into a lot of books this week. I also happen to to start school this week so who knows when I'll get to these but I am excited to see all these. I went to the library to spend some time reading the other day and found out I had 2 holds waiting for me. Oppies.
Netgalley
The Secret Fire by CJ Daughterty
I grabbed this one off Netgally this week. It sounds like a lot of other books that I have read but hopefully it'll be interesting. This book was released on September 3.
Description:
Sacha Winters can't die.
Until his eighteenth birthday he is invincible. On that day it all ends for Sacha – the result of a curse that has plagued his family for centuries.
His death will fulfil the curse
– and unleash a wave of destruction. He has no idea how to stop it, only the cryptic notes left behind by his father, and a strange connection with a girl he has only just met to guide him.
Taylor Montclair

is a quiet, studious girl focused on her dream of getting into Oxford University. She's also the only one who can save Sacha. Only neither of them knows that yet. And Sacha lives hundreds of miles away, in Paris.
Taylor and Sacha have eight weeks
to find each other. To unravel the secrets buried in their families' past. And to discover the power that lies within them.
Sacha's life, and the fate of the world depends on it.

The clock starts NOW.
E-Book
Finding Audrey by Sophie Kinsella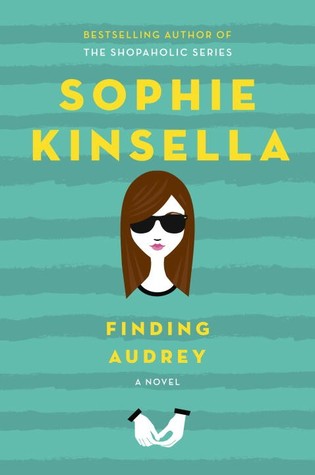 This one was on sale on the Kindle store over the Labour Day weekend. It has had a lot of hype and I was excited to pick it up from $4.99.
Description:
An anxiety disorder disrupts fourteen-year-old Audrey's daily life. She has been making slow but steady progress with Dr. Sarah, but when Audrey meets Linus, her brother's gaming teammate, she is energized. She connects with him. Audrey can talk through her fears with Linus in a way she's never been able to do with anyone before. As their friendship deepens and her recovery gains momentum, a sweet romantic connection develops, one that helps not just Audrey but also her entire family.
Library
The Final Empire by Brandon Sanderson
I've had a hold on this book for ages. I finally came in and it's the BIGGEST book I have read. The hardcover is massive!
Description:
In a world where ash falls from the sky, and mist dominates the night, an evil cloaks the land and stifles all life. The future of the empire rests on the shoulders of a troublemaker and his young apprentice. Together, can they fill the world with color once more?
The Conspiracy of Us by Maggie Hall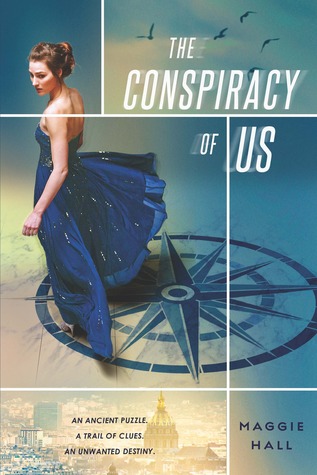 Another one that I ordered from the library. Haven't seen this one around too much but am anxious to get to it.
Description:
Avery West's newfound family can shut down Prada when they want to shop in peace, and can just as easily order a bombing when they want to start a war. Part of a powerful and dangerous secret society called the Circle, they believe Avery is the key to an ancient prophecy. Some want to use her as a pawn. Some want her dead.
To unravel the mystery putting her life in danger, Avery must follow a trail of clues from the monuments of Paris to the back alleys of Istanbul with two boys who work for the Circle—beautiful, volatile Stellan and mysterious, magnetic Jack. But as the clues expose a stunning conspiracy that might plunge the world into World War 3, she discovers that both boys are hiding secrets of their own. Now she will have to choose not only between freedom and family--but between the boy who might help her save the world, and the one she's falling in love with
Guardians of the Galaxy Vol. 2: Angela
I read volume 1 a few months ago and grabbed the second volume at the library.
Description:
Spinning out of the dramatic conclusion of Age of Ultron, dimensions collide and Heaven's most fearsome Angel arrives - and comes straight for the Guardians! Gamora, one of the galaxy's greatest warriors, holds a deadly secret that could bring down the entire team. And when Gamora battles Angela, the entire universe hangs in the balance! Then, the galaxy's most mismatched heroes find themselves at a crossroads when the effects of Infinity begin to rise. Can even the mysterious Angela's power help combat the fallout from Thanos' master plan? And what will it take for Star-Lord to betray the entire Marvel Universe? The biggest blockbuster hit of the year continues as critically acclaimed artists Sara Pichelli and Francesco Francavilla climb aboard...and comics legend Neil Gaiman joins the team in this one-of-a-kind comic book event!
The Griff by Christopher Moore & Ian Corson
A graphic novel by my favourite author, Yes please! I'm not even sure what it's about but I am excited to read it.
Description:
The alien's four-step plan to conquer our planet included the attack of minivan-sized griffin-like dragons and the destruction of all humankind. Into that ominous sounding onslaught wanders a trio of earthly survivors who don't seem to take anything too seriously. Writer Christopher Moore and artist Ian Corson have created a graphic novel that could probably keep even its bad guys laughing.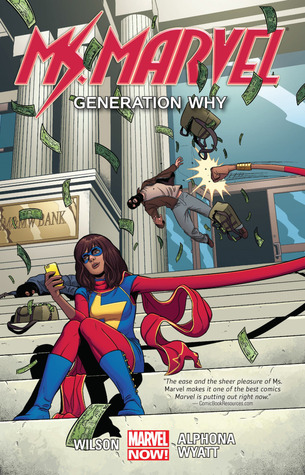 Ms. Marvel Vol. 2: Generation Why
I haven't actually gone to pick this one up yet but it's currently waiting for me at the library. I am really excited to get into this story deeper.
Description
:
Who is the Inventor, and what does he want with the all-new Ms. Marvel and all her friends? Maybe Wolverine can help! If Kamala can stop fan-girding out about meeting her favorite super hero, that is. Then, Kamala crosses paths with Inhumanity -- by meeting the royal dog, Lockjaw! But why is Lockjaw really with Kamala? As Ms. Marvel discovers more about her past, the Inventor continues to threaten her future. Kamala bands together with some unlikely heroes to stop the maniacal villain before he does real damage, but has she taken on more than she can handle? And how much longer can Ms. Marvel's life take over Kamala Khan's? Kamala Khan continues to prove why she's the best (and most adorable) new super hero there is!