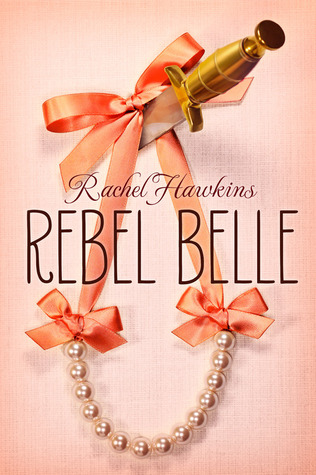 Genre:
YA Paranormal
Publication:
08/04/15 by Putnam Juvenile
Series:
Rebel Belle Series
Pages:
345 Pages
Format:
Library Hardback
Rating:
3.5 out of 5 Stars
Goodreads
|
Amazon
|
Indigo
Goodreads Summary:
Harper Price, peerless Southern belle, was born ready for a Homecoming tiara. But after a strange run-in at the dance imbues her with incredible abilities, Harper's destiny takes a turn for the seriously weird. She becomes a Paladin, one of an ancient line of guardians with agility, super strength and lethal fighting instincts.
Just when life can't get any more disastrously crazy, Harper finds out who she's charged to protect: David Stark, school reporter, subject of a mysterious prophecy and possibly Harper's least favorite person. But things get complicated when Harper starts falling for him—and discovers that David's own fate could very well be to destroy Earth.
My Thoughts:
I had Rebel Belle on my TBR sine I heard people talk about it at the end of last year so when I saw it at my library I jumped on it. This was definitely an interesting story and one that I hadn't really read before (aside from the regular YA tropes). However in the end, there was lots of things that I liked about this book and at the same time there were a lot of just meh parts.
So what did I like, I really enjoyed the use of Paladins. It was something original that I hadn't seen before. But what I didn't enjoy was the use of all the YA tropes and stereotypes. Sure, Harper wasn't a bad character but I've seen her character before. The seemingly perfect girl in high school who can do everything all at once and still remain awesome. I am tired of this character. She isn't bad, but I'm just over it right now.
Now, the sequence of events was fast paced and interesting. I liked that it takes part during cotillion. I don't know a lot about the tradition besides what was portrayed in the movie She's The Man,
So essentially nothing but I still find it interesting. What girl doesn't want to dress up in a gorgeous dress and be escorted by a gorgeous guy? And there are gorgeous boys in this book. I am a sucker for nerds, and David Stark sounds like my kind of guy. The romance involved is awesome and gave me some of the warm fuzzies. I find it hard to connect to a lot of YA romances but I liked this one.
Conclusions: It was fun, interesting and pretty entertaining. I wasn't blown away by any means but I had a good time reading this one. Essentially, it was just the stereotypes/cliches that put me off a bit. Maybe I'm just getting tired of YA (OH NO). But in the end, not too shabby. I am planning on continuing this series but the second book isn't getting the best reviews. Sigh. But I wouldn't let that turn you away from this one.