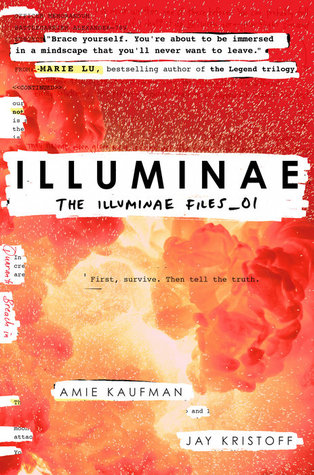 Genre:
Science Fiction
Publication:
10/20/2015 by Knopf Books
Series:
The Illuminae Files #1
Pages:
599 Pages
Format:
Hardback
Rating:
2 out of 5 Stars
Goodreads
|
Amazon
|
Book Depository
Goodreads Summary:
This morning, Kady thought breaking up with Ezra was the hardest thing she'd have to do.
This afternoon, her planet was invaded.
The year is 2575, and two rival megacorporations are at war over a planet that's little more than an ice-covered speck at the edge of the universe. Too bad nobody thought to warn the people living on it. With enemy fire raining down on them, Kady and Ezra—who are barely even talking to each other—are forced to fight their way onto an evacuating fleet, with an enemy warship in hot pursuit.
But their problems are just getting started. A deadly plague has broken out and is mutating, with terrifying results; the fleet's AI, which should be protecting them, may actually be their enemy; and nobody in charge will say what's really going on. As Kady hacks into a tangled web of data to find the truth, it's clear only one person can help her bring it all to light: the ex-boyfriend she
swore
she'd never speak to again.
Told through a fascinating dossier of hacked documents—including emails, schematics, military files, IMs, medical reports, interviews, and more—
Illuminae
is the first book in a heart-stopping, high-octane trilogy about lives interrupted, the price of truth, and the courage of everyday heroes.
My Thoughts:
I thought I was going to really like Illuminae, I really did. I am a SciFi and Fantasy girl so I thought this would be right up my alley. Unfortunately, I was really disappointed with Illuminae. There a few things that just didn't gel with me, many of these things are what others loved about Illuminae. Not everyone can love every popular book.
I picked up Illuminae because of it's beautiful set up. The story is told through documents and IM conversations, which seems super cool and original. However, once I actually started to read the book I didn't find this method of story telling engaging. I wasn't drawn into the story and I had a hard time connecting with any of the characters. I considered putting this book down more than once, because I felt like I was just slogging through it.
In addition, I felt like there was a lot going on for one story. Too much at certain times. I think with the method of story telling, less would have been more. This book was an intergalactic space chase and battle with elements of the walking dead. It was a lot. I also have biological questions regarding the infection that was spreading. Viruses definitely don't mutate that quickly, the biology nerd inside me was very bothered by that element.
Illuminae just wasn't for me. I was bored for a good part of it and just wanted to read a book with real words. I do think this would make a good movie, and I really appreciate how dark the story went. I was just underwhelmed by the story telling. I feel in the minority for not liking this book but there always has to be some of us who don't like it.
Have you read Illuminae? What were your thoughts on the book?