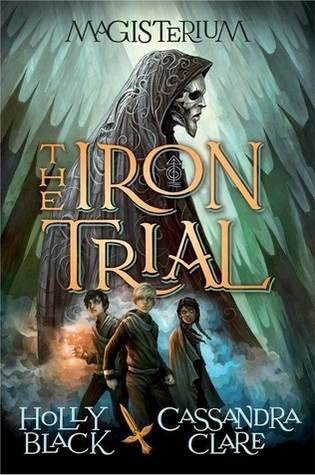 Genre:
Fantasy
Publications:
09/09/2014 by Scholastic
Series:
The Magisterium #1
Pages:
295 Pages
Format:
Overdrive Audiobook
Rating:
4 out of 5 Stars
Goodreads
|
Book Depository
|
Amazon
Goodreads Summary:
Most kids would do anything to pass the Iron Trial.
Not Callum Hunt. He wants to fail.
All his life, Call has been warned by his father to stay away from magic. If he succeeds at the Iron Trial and is admitted into the Magisterium, he is sure it can only mean bad things for him.
So he tries his best to do his worst - and fails at failing.
Now the Magisterium awaits him. It's a place that's both sensational and sinister, with dark ties to his past and a twisty path to his future.
The Iron Trial is just the beginning, for the biggest test is still to come . . .
My Thoughts:
I was really surprised with this book. I didn't have extremely high expectations because I have heard lots of mixed reviews about it. But this book grabbed my attention from the beginning and I was drawn right into the story. A lot of people compared it to Harry Potter, which I didn't see (at least in this first book). I felt that it had a unique magic system and the Magisterium itself was an interesting setting.
This story took some really interesting twists and turns. Some of them were predictable, but considering this book is targeted for middle grade audiences they made sense. However, I was surprised by most of the plot twists. I also really enjoyed the characters. Their motivations were strong and I am excited to see where the series takes them.
I think this will be a really i
nteresting series and I am planning on picking up The Copper Gauntlet soon from my library. I would highly recommend this book to lovers of middle grade adventure books. I have high hopes for this series, 2 thumbs up.