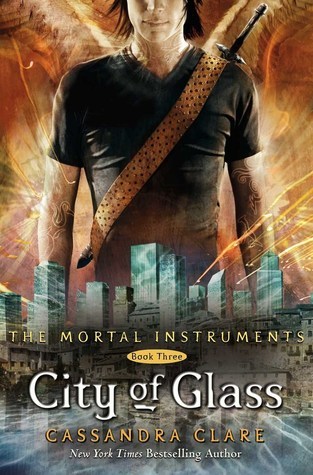 Genre:
YA, Paranormal, Urban Fantasy
Publication:
03/24/2009 by Margret K. McElderry Books
Series:
The Mortal Instruments #3
Pages:
541 Pages
Source:
Overdrive Audiobook
Rating:
4 out of 5 Stars
Goodreads Summary
To save her mother's life, Clary must travel to the City of Glass, the ancestral home of the Shadowhunters - never mind that entering the city without permission is against the Law, and breaking the Law could mean death. To make things worse, she learns that Jace does not want her there, and Simon has been thrown in prison by the Shadowhunters, who are deeply suspicious of a vampire who can withstand sunlight.
As Clary uncovers more about her family's past, she finds an ally in mysterious Shadowhunter Sebastian. With Valentine mustering the full force of his power to destroy all Shadowhunters forever, their only chance to defeat him is to fight alongside their eternal enemies. But can Downworlders and Shadowhunters put aside their hatred to work together? While Jace realizes exactly how much he's willing to risk for Clary, can she harness her newfound powers to help save the Glass City - whatever the cost?
My Thoughts:
I am going to admit it now, I didn't want to like this book. I felt very meh about the first 2 books in the series and I didn't want to like this one so that I could just quit the series all together. But I actually really enjoyed this book. It was exciting and I actually started to connect with the characters. I can see why some people are very much obsessed with this series and I decided to continue on with the series.
However, I do still have some issues with the series. I'm not a huge fan of Jace, I am not a fan of the tropes his character follows. He's not a guy I am attracted to so I don't get a strong connection to his character. The romance-ishness between Clary and his character made me want to facepalm in the first 2 books but in this book I bought into it for the first time. I saw the chemistry for the first time and I shipped it.
The only reason I am a little hesitant about continuing on with this series is that this book feels like the end of a trilogy. I know it was originally meant to be a trilogy so that's why I feel this way. I just don't know how the series is going to continue, which is what is making me want to continue. My library has the whole series on audio so that is probably how I am going to finish it.
Conclusions: This one was much better than the first two books, it's seriously growing in me. It was fast paced and exciting. I am really digging the paranormal elements and if you are into those kind of things check out this series.