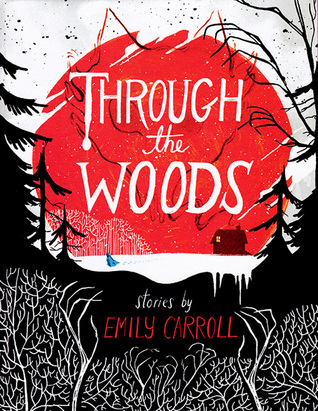 Through The Woods
By. Emily Carroll
I read this one for Halloween, which is an awesome time for reading creepy graphic novels. This one was really nice to look at and the art was amazing. However, I didn't find any of the stories actually super scary. They are interesting and if you like creepy stories that play with your mind than this is an awesome graphic novel for you. However, if you are looking for straight up horror, this may not be it.
Rating: 3 out of 5 Stars
Ms. Marvel Vol 3: Crushed
By. B. Willow Wilson, Mark Waid and Takeshi Miyazawa... (et al.)
I am still in love with this graphic novel series. Kamala is so relatable even if she is a super hero. In this volume we start to get into the world of boys which I really really enjoyed. I did find it a bit predictable but it was still really exciting and awesome. Also, Loki is a special guest which is super cool. I like cameos in my comics, what can I say. If you haven't started this series, check it out!!
Rating: 4 out of 5 Stars
Chew Vol. 2: International Flavour
By. John Layman & Rob Guillory
This shit is dark and I love it. In this series,when Tony Chu eats anything he knows that happened to it before it died. Also, chicken is illegal. This series is just too awesome not to read and it has such awesome story lines. This volume wasn't as awesome as the first volume but I still has so much fun. I can't wait to see where this story goes. This one took place on an island and there is an introduction to am mysterious plant which I want to know more about! I am planning on grabbing volume 3 soon!
Rating: 4 out of 5 Stars