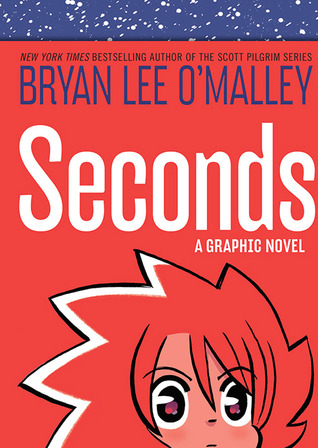 Genre:
Graphic Novel
Publication:
07/14/2015 by Ballantine Books
Pages:
323 Pages
Source:
Library Hardback
Rating:
5 out of 5 Stars
Goodreads
|
Book Depository
|
Amazon
Goodreads Summary:
Katie's got it pretty good. She's a talented young chef, she runs a successful restaurant, and she has big plans to open an even better one. Then, all at once, progress on the new location bogs down, her charming ex-boyfriend pops up, her fling with another chef goes sour, and her best waitress gets badly hurt. And just like that, Katie's life goes from pretty good to not so much. What she needs is a second chance. Everybody deserves one, after all—but they don't come easy. Luckily for Katie, a mysterious girl appears in the middle of the night with simple instructions for a do-it-yourself do-over:
1.
Write your mistake
2.
Ingest one mushroom
3.
Go to sleep
4.
Wake anew
And just like that, all the bad stuff never happened, and Katie is given another chance to get things right. She's also got a dresser drawer full of magical mushrooms—and an irresistible urge to make her life not just good, but perfect. Too bad it's against the rules. But Katie doesn't care about the rules—and she's about to discover the unintended consequences of the best intentions.
My Thoughts
This was a perfect way to begin this year. It was amazing and quickly became one of my favourite all time graphic novels. I found Katie's story very relatable because at one point or another we all wish that we could go back and change something in our life. I had a hard time putting it down every time I picked it up and I was just engrossed in the story.
My only one criticism is that I feel like I've heard this story before. This isn't the first story that shows the perils of going back to change something in your life. However, I think that this was a new refreshing take on that story line. Bryan Lee O'Malley is fantastic and I am definitely going to check out his other stories in the future. I highly recommend!