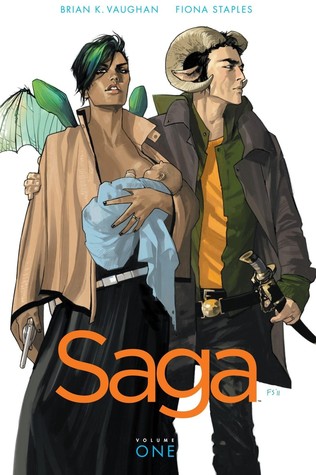 Saga: Volume One
By: Brian K.Vaughan and Fiona Staples
This was a really good graphic novel. The world is interesting and the characters were great. I really like the forbidden romance and the banter between characters. It is definitely a bit weird, but I got used to it pretty quick. Weird is cool. It is kind of graphic but I'm an adult and I can appreciate it. I accidentally was reading this in public at the library so I had to like hide in the corner to not expose any graphic content to any unsuspecting individuals. I will be picking up the next volume soon.
4 out of 5 Stars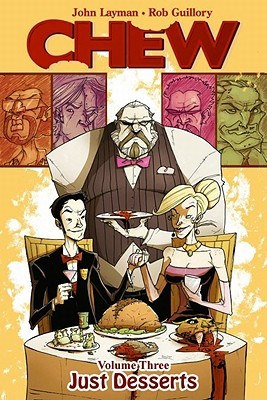 Chew Volume 3: Just Desserts
By: John Layman and Robert Guillory
I am obsessed with this series. It's just so cleaver and unique. I really enjoy the arch in this volume and there were certainly some surprises! I can't wait to see what kind of role some of the new characters introduced play in future volumes. I highly recommend this series. If you are looking for an awesome comic book series, check out Chew!
4 out of 5 Stars
Captain Marvel Volume 2: Stay Fly
By. Kelly Sue DeConnick, Marcio Takara and David Lopez
This was just super weird. I really wasn't into the plot, it kept taking super strange turns and I wasn't feeling it. Captain Marvel is an interesting character and I really want to love her but I am not enjoying this run. However, at the moment there is only 1 more volume and I am pretty certain that it's the last one for this run so I am planning to finish it, maybe. I really really want to like these. Sigh.
2 out of 5 Stars