Gotham Academy Vol 2: Calamity
Becky Cloonan, Brenden Fletcher
I was kind of disappointed with this volume unfortunately. I was just confused while reading this one. The issues kind of jumped around and I had a hard time following them. Maybe it was too long since I read the first volume but who knows. I am still going to check out the next volume and hope I get some of the magic back. I still really enjoy the characters and some of the revels in this volume.
2 out of 5 Stars
Archie Vol 1: The New Riverdale
Mark Waid, Fiona Staples, Annie Wu, Veronica Fish
I haven't read Archie and years so this reboot was an awesome way to step back into Riverdale. You get reintroduced to all the main characters, which was awesome since I have never really read a whole lot of Archie. I only read here a there so I had no idea what was going on in the main universe. If you are super familiar with Archie, this first one might be all old knowledge but I think it was a fun exciting way to reboot Archie.
4 out of 5 Stars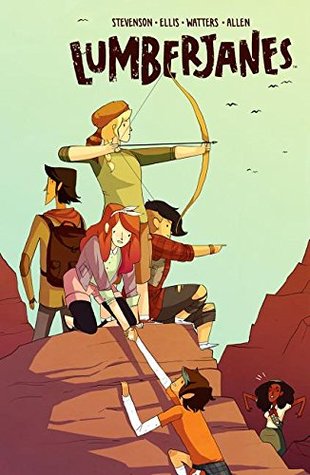 Lumberjanes Vol 2: Friendship to the Max
Noelle Stevenson, Grace Ellis, Shannon Watters, Brooke Allen
I absolutely adore Lumberjanes, it's my definitely my favourite comic book series. I love the colours and the characters. They get into so many shenanigans it makes me happy. I would love to go to Summer Camp and make some amazing friends like these girls. I found that this one was a bit more of a cohesive story than the first. Highly recommend.
5 out of 5 Stars