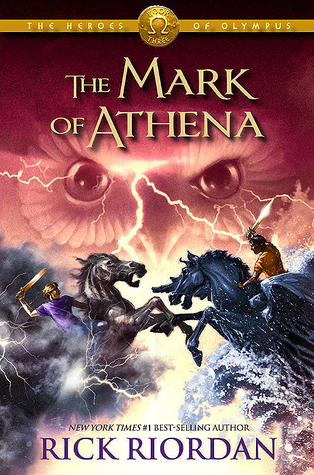 Genre:
Fantasy
Publication:
10/2/2012 by Disney-Hyperion
Series:
The Heroes of Olympus #3
Pages:
586
Format:
Audiobook
Rating:
3 out of 5 Stars
Goodreads
|
Amazon
|
Book Depository
Goodread Summary:
In The Son of Neptune, Percy, Hazel, and Frank met in Camp Jupiter, the Roman equivalent of Camp Halfblood, and traveled to the land beyond the gods to complete a dangerous quest. The third book in the Heroes of Olympus series will unite them with Jason, Piper, and Leo. But they number only six--who will complete the Prophecy of Seven?
The Greek and Roman demigods will have to cooperate in order to defeat the giants released by the Earth Mother, Gaea. Then they will have to sail together to the ancient land--Greece itself--to find the Doors of Death. What exactly are the Doors of Death? Much of the prophecy remains a mystery...
With old friends and new friends joining forces, a marvellous ship, fearsome foes, and an exotic setting, The Mark of Athena promises to be another unforgettable adventure by master storyteller Rick Riordan.
My Thoughts
I have been working on finishing this series and it's been fun so far. However, this series hasn't blown me away but I reach for it because it's always a super fun adventure that I know I will like it. All of the characters are different and diverse. I feel they are growing through every book and it was awesome to finally have everybody together in this book.
I always want to rate these books higher than I do but for some reason I just can't. They are like a person you really want to fall in love with but just find those feelings. I don't know why I don't love them as much as I want to. Don't get me wrong I have fun when I read them but I just can't make myself fall in love with them. I am still going to finish it because I enjoy the characters and the adventures. I also want to know how this series ends before I continue with Magnus Chase.
If you love Percy Jackson and Rick Riordan's books you'll love this one too. The characters are relatable and the story is always non-stop. I am curious about how this series is going to end and I hope the next two books excite me more than the first 3 have.