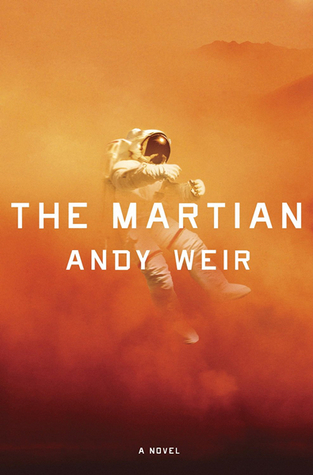 Genre:
Science Fiction
Publication:
02/14/2014 by Crown
Pages:
369 Pages
Source:
Library Paperback
Rating:
4 out of 5 Stars
Goodreads
|
Amazon
|
Book Depository
Goodreads Summary:
Six days ago, astronaut Mark Watney became one of the first people to walk on Mars. Now, he's sure he'll be the first person to die there. After a dust storm nearly kills him & forces his crew to evacuate while thinking him dead, Mark finds himself stranded & completely alone with no way to even signal Earth that he's alive—& even if he could get word out, his supplies would be gone long before a rescue could arrive. Chances are, though, he won't have time to starve to death. The damaged machinery, unforgiving environment or plain-old "human error" are much more likely to kill him first. But Mark isn't ready to give up yet. Drawing on his ingenuity, his engineering skills—& a relentless, dogged refusal to quit—he steadfastly confronts one seemingly insurmountable obstacle after the next. Will his resourcefulness be enough to overcome the impossible odds against him?
My Thoughts:
I FINALLY finished this book. Even though it took me forever, I still really really enjoyed The Martian. This is a surprisingly hilarious book, you wouldn't think a space survival book would be humorous but it is. Mark Watney is a sarcastic bastard and I absolutely loved his character. Even though he was left on Mars to die, he looked on the bright side of things and made a joke about whatever bad situation he is in. I absolutely loved his character and I might have a crush on Mark, who doesn't?
I think part of the reason that this book took me longer than normal to read this book is because it was very technical. There is a lot of scientific explanation for different situations which was awesome but slow to read. I am a scientist so I loved to read it but if you don't know a lot about science don't avoid this book. It's written so that anybody could read it and enjoy it. However, I still find it hard to believe that the government would spend millions and millions (maybe even a billion) dollars to save ONE person from Mars. But if I suspend my disbelief for the sake of the story I am good.
I really hope that some people get excited about science by reading this book. There is some inaccuracies but as a whole it was very well down. Andy Weir seriously did his research before writing this book. I also really enjoyed that there were women scientists in important roles during the story. This isn't something you see a lot of, but it's important to show girls that science/engineering/computer science are great areas of study and you shouldn't feel held back from because you are a girl.
Conclusions: Hilarious story with lots of science! Perfect for all the geeky nerd out there but it's still great no matter what your into. 2 thumbs up from me.