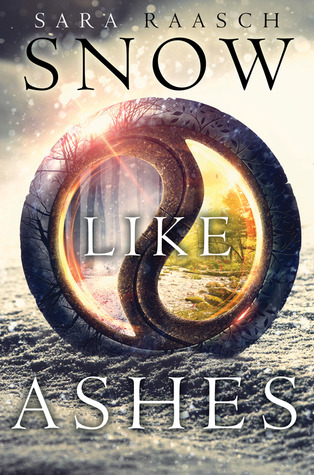 Genre:
YA Fantasy
Publication:
10/14/14 by Balzer + Bray
Series:
Snow Like Ashes Series
Pages:
416 Pages
Format:
Library Audiobook
Rating:
5 out of 5 Stars
Goodreads
|
Amazon
|
Book Depository
Goodreads Summary:
Sixteen years ago the Kingdom of Winter was conquered and its citizens enslaved, leaving them without magic or a monarch. Now, the Winterians' only hope for freedom is the eight survivors who managed to escape, and who have been waiting for the opportunity to steal back Winter's magic and rebuild the kingdom ever since.
Orphaned as an infant during Winter's defeat, Meira has lived her whole life as a refugee, raised by the Winterians' general, Sir. Training to be a warrior—and desperately in love with her best friend, and future king, Mather — she would do anything to help her kingdom rise to power again.
So when scouts discover the location of the ancient locket that can restore Winter's magic, Meira decides to go after it herself. Finally, she's scaling towers, fighting enemy soldiers, and serving her kingdom just as she's always dreamed she would. But the mission doesn't go as planned, and Meira soon finds herself thrust into a world of evil magic and dangerous politics – and ultimately comes to realize that her destiny is not, never has been, her own.
My Thoughts:
I absolutely loved Snow Like Ashes! I haven't been so excited about a book for a long time. The story was beautifully crafted and I loved the world this took place in. I really enjoyed the combination of the rhythm kingdoms and the season kingdoms, it added a lot of depth to the story. Tension and political intrigue is present between all the kingdoms adding a whole extra element to the story. Winter had been enslaved by the Spring Kingdom. So you really feel for the Winterians' and throughout the book I had no idea how they'd be rescued from slavery.
Meira was an awesome main character. She didn't have the "I'm so special" main character complex which I appreciated. She was strong, brave and just wanted to mean something to Winter. It was interesting to see her internal struggles to feel connected to a kingdom she had never really known. This book does however have a slight love triangle, however it is one that makes sense. I am not sure how this will play out in the rest of the trilogy but I hope it never becomes the prominent story line. Both of these boys however are very swoon worthy. Prince Theron is the charming, gentleman you dream of sweeping you off your feet and making you a Princess.
The ending was fantastic. It wrapped things up in this story but leaves so much open to happen in the following books. I don't know how the sequel is going to play out but I already have it pre-ordered! I am dying to know what's going to happen to these characters and their kingdom.
Conclusions: Clearly, I loved this book. It easily became one of my favourites this year. If you are a fan of fantasy, seriously try this one out. It's got great characters and amazing world building. Read it!