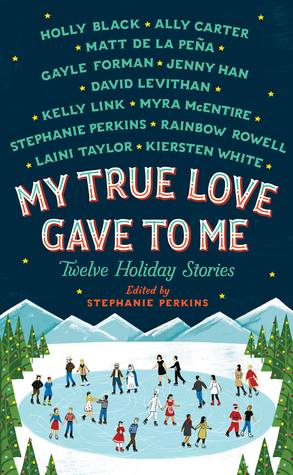 Genre:
YA, Holiday Romance
Publication:
08/14/2014 by St. Martin's Press
Pages:
336 Pages
Source:
Library E-Book
Rating:
3 out of 5 Stars
Goodreads
|
Amazon
|
Book Depository
Goodreads Summary
If you love holiday stories, holiday movies, made-for-TV-holiday specials, holiday episodes of your favorite sitcoms and, especially, if you love holiday anthologies, you're going to fall in love with
My True Love Gave To Me: Twelve Holiday Stories
by twelve bestselling young adult writers, edited by international bestselling author Stephanie Perkins. Whether you enjoy celebrating Christmas or Hanukkah, Winter Solstice or New Year's there's something here for everyone. So curl up by the fireplace and get cozy. You have twelve reasons this season to stay indoors and fall in love.
My Thoughts
This book came into my life just at the right time. I was looking for Romance and some Holiday spirit, and I found just want I needed. I also thought I should get it from the library before the holiday rush. I enjoyed this book for the most part, I really enjoyed some of the stories in this book and there were others I could care less about.
My favourite stories in the anthology were Midnights by Rainbow Rowell and It's A Yuletide Miracle, Charlie Brown by Stephanie Perkins. Midnights was very bittersweet and it reminded me of New Years Eves of my past. I was super flustered after reading this story for hours, so many memories. Also, Stephanie Perkins story was so sweet that I nearly melted. I loved how the story was told and how the romance unfolded. I really want to pick up her other romances now, they have been added to my ever growing TBR.
However, there were stories that I really didn't enjoy which brought my rating down. I also find it hard to get into short story collections. I get connected to one story then it just ends and I have to connect with another right after. It's exhausting! But I do think there is something for everyone in this collection and if you are looking for some holiday romance check these out.