The Unbeatable Squirrel Girl, Vol. 2: Squirrel You Know It's True
Ryan North, Erica Henderson
If you aren't reading this and you love spunky superheroes, check it out! Squirrel Girl is a funny different take on being a super hero. I love her attitude and I love how this comic is progressing. The art is bright and eye catching. If you are looking for somewhere to start to the Marvel Universe this is a good place to start.
4 out of 5 Stars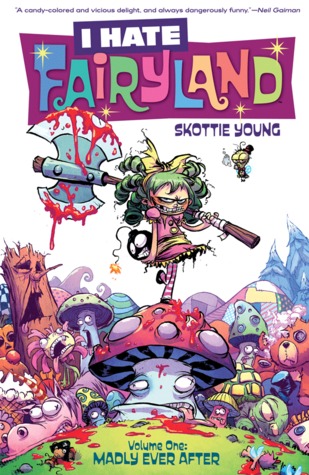 I Hate Fairyland, Vol 1: Madly Ever After
Scottie Young
I Love Fairyland! This book was amazing. I laughed the whole way through. Gert is terrible, in all the best ways. It's a gory but bright and funny comic. I don't know how those all fit together but they do. I don't know if this is the comic for everyone, I am partial to offbeat humour and a little gore so this book was up my alley. If you ever wanted to know what it would be like if Quentin Tarantino wrote and directed an animated movie, it would be I Hate Fairyland.
5 out of 5 Stars
Moon Girl and the Devil Dinosaur
Amy Reeder, Brandon Montclare, Natacha Bustos
I read the first issue of this months ago and I was excited to pick it up as a trade. I love the idea and it was a pretty good story. However, since it is part of the marvel extended universe I felt like I was missing some info. Devil Dinosaur is a previous character with a backstory and you should probably know a few things about the Inhumans before jumping into this one. I am still planning on picking up the next one though, definitely a different story.
3 out of 5 Stars