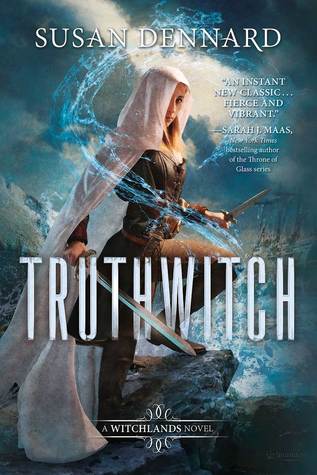 Genre:
Fantasy
Publication:
01/05/2016 by Tor Teen
Series:
The Witchlands #1
Pages:
416 Pages
Format:
Library Hardback
Rating:
3 out of 5 Stars
Goodreads
|
Amazon
|
Book Depository
Goodreads Summary:
In a continent on the edge of war, two witches hold its fate in their hands.
Young witches Safiya and Iseult have a habit of finding trouble. After clashing with a powerful Guildmaster and his ruthless Bloodwitch bodyguard, the friends are forced to flee their home.
Safi must avoid capture at all costs as she's a rare Truthwitch, able to discern truth from lies. Many would kill for her magic, so Safi must keep it hidden - lest she be used in the struggle between empires. And Iseult's true powers are hidden even from herself.
In a chance encounter at Court, Safi meets Prince Merik and makes him a reluctant ally. However, his help may not slow down the Bloodwitch now hot on the girls' heels. All Safi and Iseult want is their freedom, but danger lies ahead. With war coming, treaties breaking and a magical contagion sweeping the land, the friends will have to fight emperors and mercenaries alike. For some will stop at nothing to get their hands on a Truthwitch.
My Thoughts:
This was a ride, a long ride. A lot happened from where we began to where this book ended, this series is really going to be an awesome journey. There was a lot that I liked about this book but I also found that there were certain parts that dragged. It took me a really long time to read this book, but there was a lot to learn about this new world and it took me some time to get into it. The world was built slowly as you read and this world has a lot of elements that it took me some time to get used to.
In general, I had a lot of fun reading this book. I see a lot of potential in this series and there is a lot of stuff to still learn. We were left with a lot of unanswered questions and you just know that many more things are going to happen before we get any resolution. What I like the most about this book is the characters. All of the characters have a lot of depth and are well developed. They are all very different and
you can form connections with them. Safi and Iseult have an awesome friendship and they both have extremely strong powers which they still need to harness. There is so much power between them which is going to cause a lot of explosive events.
This was a strong beginning to an new series. I felt that it dragged a bit in the middle and that's where the story lost me for awhile but the rest of the book was strong. I am predicting that this series is going to get very intense along the way and I am excited to continue reading on when the next book comes out. High recommend this book if you are a fan of fantasy.