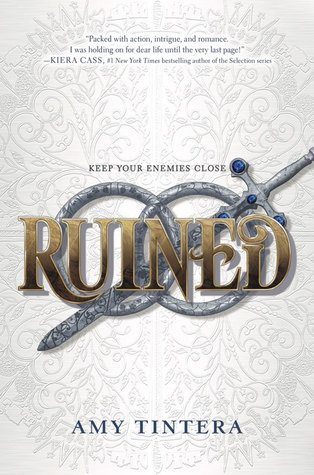 Genre:
Fantasy
Publication:
05/03/2016 by HarperTeen
Series:
Ruined #1
Pages:
368 Pages
Format:
Library Hardback
Rating:
3 out of 5 Stars
Goodreads
|
Amazon
|
Book Depository
Goodreads Summary:
Emelina Flores has nothing. Her home in Ruina has been ravaged by war. She lacks the powers of her fellow Ruined. Worst of all, she witnessed her parents' brutal murders and watched helplessly as her sister, Olivia, was kidnapped.
But because Em has nothing, she has nothing to lose. Driven by a blind desire for revenge, Em sets off on a dangerous journey to the enemy kingdom of Lera. Somewhere within Lera's borders, Em hopes to find Olivia. But in order to find her, Em must infiltrate the royal family.
In a brilliant, elaborate plan of deception and murder, Em marries Prince Casimir, next in line to take Lera's throne. If anyone in Lera discovers Em is not Casimir's true betrothed, Em will be executed on the spot. But it's the only way to salvage Em's kingdom and what is left of her family.
Em is determined to succeed, but the closer she gets to the prince, the more she questions her mission. Em's rage-filled heart begins to soften. But with her life—and her family—on the line, love could be Em's deadliest mistake.
My Thoughts
This was the kind of book I was looking for! I have been reading a lot of fantasy, and this one really picked up the pace. It was an extremely fast paced novel which didn't shy away from being brutal when needed. From the first chapter you know that no character is safe. A lot of novels shy away from too much violence, but in this case to you feel the weight of the war between the many different kingdoms.
One thing that did confuse me was the structure of the world. I got the different kingdoms or nations confused. First, I couldn't remember which kingdom was what and where they were located. One easy way to have fixed that would have been to have a map or maybe even an extra page with a list. Another thing I am a bit confused about is the Ruined magic. I am not sure where their magic comes from or what really is the extent of their abilities. I feel like I got bit and pieces of it but not the whole story. Hopefully, I will get what I am looking for in the the next books.
I really enjoyed myself while reading this book. I wanted to jump back in when I wasn't reading it. When I take a step back from the book, I see some of it's flaws but on sheer enjoyment I really enjoyed this story. On thing that I loved about this story was that there seemed to be equality between sexes. Many of the warriors were women and they held high positions of power. Also, there was an LGBTQ+ character which wasn't made into a big deal and it wasn't an issue in the world from what I can tell.
That was a fun read, and I will be planning on picking up the sequels when they come out. If you are a fan of fantasy and royalty I would recommend you check this one out.