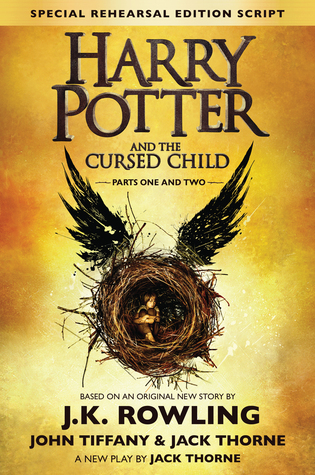 Genre:
Fantasy, Play
Series:
Harry Potter #8
Publication:
July 31, 2016 by Authur A. Levine Books
Pages:
328 Pages
Format:
Hardcover
Rating:
3 out of 5 Stars
Goodreads
|
Amazon
|
Book Depository
Goodreads Summary
The Eighth Story. Nineteen Years Later.
Based on an original new story by J.K. Rowling, Jack Thorne and John Tiffany, a new play by Jack Thorne, Harry Potter and the Cursed Child is the eighth story in the Harry Potter series and the first official Harry Potter story to be presented on stage. The play will receive its world premiere in London's West End on July 30, 2016.
It was always difficult being Harry Potter and it isn't much easier now that he is an overworked employee of the Ministry of Magic, a husband and father of three school-age children.
While Harry grapples with a past that refuses to stay where it belongs, his youngest son Albus must struggle with the weight of a family legacy he never wanted. As past and present fuse ominously, both father and son learn the uncomfortable truth: sometimes, darkness comes from unexpected places.
My Thoughts
It's finally time for me to talk about how I feel about this book. I have waited a few days to gather my thoughts and figure out how I actually feel about this new Harry Potter story. This book has for sure been polarizing but I am going to start by saying I did enjoy reading this book. However, it does has some issues that did bother me during the reading experience.
The biggest problem I had was with the plot of this book. It's a storyline I have seen many times before, and it's just not a plot that I wanted in the Harry Potter world. I already have all kinds of movies and books that I love that do this plot so I didn't need it done this way again. I don't feel like it fit into the wizarding world storyline. However, I really enjoyed being back in that world and experiencing the characters that I love again. I liked how the characters have aged and their interpersonal conflicts would be something that I could imagine happening. The only character that seemed weird was Ron, who just seemed out of character at points.
In the end, I can see where both parties sit on this. I can see how it's easy to love and to also hate. I am sitting right in the middle on this one. The plot just threw me off too much for me to absolutely love. I do think I would have had a different opinion actually seeing this as a play, I feel like it would be an incredible experience. I think it's a fun addition to the world, it's just not the greatest thing to happen to this universe.