Genre:
Contemporary
Publication:
01/04/2014 by Penguin
Pages:
260 Pages
Format:
Library Paperback
Rating:
5 out of 5 Stars
Goodreads
|
Amazon
|
Indigo
Goodreads Summary:
A.J. Fikry's life is not at all what he expected it to be. His wife has died, his bookstore is experiencing the worst sales in its history, and now his prized possession, a rare collection of Poe poems, has been stolen. Slowly but surely, he is isolating himself from all the people of Alice Island---from Chief Lambiase, the well-intentioned police officer who's always felt kindly toward him; from Ismay, his sister-in-law, who is hell-bent on saving A.J. from his dreary self; from Amelia, the lovely and idealistic Knightley Press sales rep who refuses to be deterred by A.J.'s bad attitude. Even the books in his store have stopped holding pleasure for him. And then a mysterious package appears at the bookstore. It's a small package, though large in weight---an unexpected arrival that gives A.J. the opportunity to make his life over, the ability to see everything anew.
My Thoughts:
This is how I sum up my thoughts: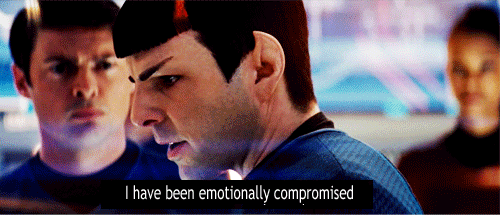 This book was beautiful. It made me laugh and cry all at the same time. It gave me the warm fuzzies but also proceeded to break my poor heart. I really enjoyed my time reading this story and I kind of want to read it again right now.
Our main character A.J. Fikry is essentially a younger version of this guy:
If you don't recognize him it's Carl from Up. Therefore he is essentially became a grumpy man because he lost his wife and now is living with that grief. I have a soft spot for grumpy old men. Especially ones that only have a grumpy exterior to hide their soft interiors so the character of A.J. was right up my alley.
The plot moved at an interesting pace and in the end all of the loose ties are done up. I got a real sense of closure and hope from the ending. This was a really well thought out book and I appreciate the planning it took to line it all up. Lots of thumbs up. The romance in this book just melted my heart. It felt so realistic and I had the warm fuzzies in my heart. I am a sucker for romance pretty much of any kind but this one is one of my favourites. It just felt real, it didn't feel overly pushed and it happened at a natural rate.
I seriously recommend this to anybody who loves books about books. A.J owns a book store and there is a lot of sub plot about keeping reading alive. It's also just a beautiful story of a man's life which I don't think anybody would dislike. If you have been thinking about reading this book, go check it out. Don't wait!