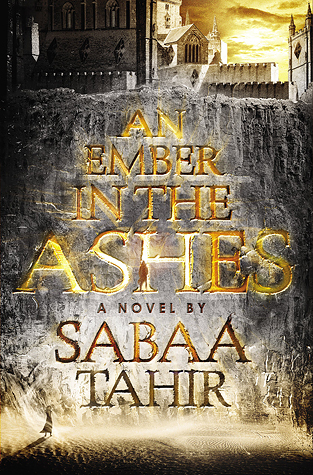 Genre:
Young Adult Fantasy
Publication:
08/28/15 by Razorbill
Series:
An Ember in the Ashes
Pages:
446 pages
Format:
Library Hardback
Rating:
3.75 out of 5 stars
Goodreads
|
Amazon
|
Indigo
Goodreads Summary:
Laia is a slave.

Elias is a soldier.

Neither is free.
Under the Martial Empire, defiance is met with death. Those who do not vow their blood and bodies to the Emperor risk the execution of their loved ones and the destruction of all they hold dear.
It is in this brutal world, inspired by ancient Rome, that Laia lives with her grandparents and older brother. The family ekes out an existence in the Empire's impoverished backstreets. They do not challenge the Empire. They've seen what happens to those who do.
But when Laia's brother is arrested for treason, Laia is forced to make a decision. In exchange for help from rebels who promise to rescue her brother, she will risk her life to spy for them from within the Empire's greatest military academy.
There, Laia meets Elias, the school's finest soldier—and secretly, its most unwilling. Elias wants only to be free of the tyranny he's being trained to enforce. He and Laia will soon realize that their destinies are intertwined—and that their choices will change the fate of the Empire itself.
My Thoughts:
Whenever I start a a first book in a new series I tend to feel like this:
An Ember in the Ashes was no exception. I was fucking confused in the beginning and I wasn't drawn into the characters. There was a lot to learn about the world and it took me awhile to a handle on it. However, this is unlike any other YA book I have ever read. It definitely would appeal to a more mature audience. There was a lot of references rape, violence and general abuse.
The biggest thing that took away from the book was how long it took me to get into it. I wasn't connected with any of the characters in the beginning. But as I kept reading, around 200 pages I finally started to feel something.
That last little bit is what really sold me on this novel. I really started to fall for the characters and the romances that are present. The plot was interesting and I really enjoyed the turns it took. However, I am getting tired of the one ruling empire vs the rebels dynamic. I feel like that's what every second I read is book is about and it's getting old.
In Conclusion: I started this book pretty bored. It was only just okay until over halfway. After that it actually became pretty awesome. I was nether blown away or disappointed by this one. If fantasy is your thing, check this out.