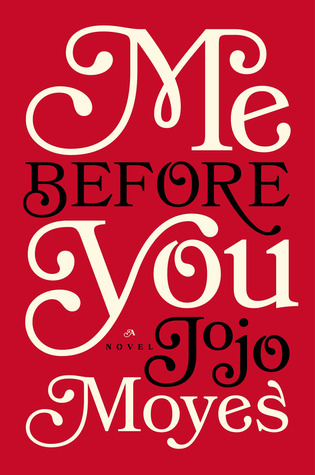 Genre:
Contemporary Romance
Publication:
12/31/2012 by Viking Books
Series:
Me Before You #1
Pages:
481 Pages
Format:
Overdrive eBook
Rating:
DNF
Goodreads
|
Amazon
|
Book Depository
Goodreads Summary
Lou Clark knows lots of things. She knows how many footsteps there are between the bus stop and home. She knows she likes working in The Buttered Bun tea shop and she knows she might not love her boyfriend Patrick.
What Lou doesn't know is she's about to lose her job or that knowing what's coming is what keeps her sane.
Will Traynor knows his motorcycle accident took away his desire to live. He knows everything feels very small and rather joyless now and he knows exactly how he's going to put a stop to that.
What Will doesn't know is that Lou is about to burst into his world in a riot of colour. And neither of them knows they're going to change the other for all time.
My Thoughts:
So I gave up on this book, for now at least. There wasn't anything wrong with this book besides the fact that I got bored. I wasn't in the mood for this kind of story. I thought I should read it now, since there has been so much hype since the movie but I just couldn't get into the story. I got 41% of the way through and hadn't yet been pulled in. I'm just not into this story at the moment, and if I force myself to finish I'll either not enjoy it as much as I could or I'll force myself into a slump (likely both). I can see myself possibly enjoying it more in the future when I'm in the mood. For now, this is going back to the library.
Lots of people really love this book so if you are interested in reading it, you definitely still should. It's not bad, I'm just not in the mood for contemporary.