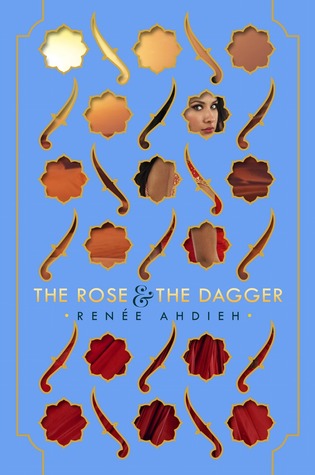 Genre:
Fantasy
Publication:
04/26/2016 by G.P. Putnam's Sons Books
Series:
The Wrath & The Dawn #2
Pages:
416 Pages
Format:
Library Hardback
Rating:
3 out of 5 Stars
Goodreads
|
Amazon
|
Book Depository
Goodreads Summary
In a land on the brink of war, Shahrzad is forced from the arms of her beloved husband, the Caliph of Khorasan. She once thought Khalid a monster—a merciless killer of wives, responsible for immeasurable heartache and pain—but as she unraveled his secrets, she found instead an extraordinary man and a love she could not deny. Still, a curse threatens to keep Shazi and Khalid apart forever.
Now she's reunited with her family, who have found refuge in the desert, where a deadly force is gathering against Khalid—a force set on destroying his empire and commanded by Shazi's spurned childhood sweetheart. Trapped between loyalties to those she loves, the only thing Shazi can do is act. Using the burgeoning magic within her as a guide, she strikes out on her own to end both this terrible curse and the brewing war once and for all. But to do it, she must evade enemies of her own to stay alive.
The saga that began with The Wrath and the Dawn takes its final turn as Shahrzad risks everything to find her way back to her one true love again.
My Thoughts
Another stop in my summer of sequels, and this one is a series finale! I am very happy to add another book to my list of finished series. Now, how did I feel about this book? It was good, not great but good. The biggest issue I found with this story was the pacing in the beginning. Considering this was a sequel and a finale it was a very slow start. I found it took at least the first third of the book to pick up pace.
In addition, I found a new trope that I am really annoyed by. It's when the girl can't hold her liquor then a man has to come and carry her home. In real life, girls drink every day and can do it without needing a rescue. The girls I know can drink the guys under the table. It just always seems like when a girl drinks in a book they need to be carried home, I'm over it.
What I did really enjoy about this book was the same with the first one, Shazi and Khalid. They're relationship just makes me happy. I love how they lean on each other and respect each other. They have always been my favourite part of this series. I also really loved how the story came together in the end. There were some surprises that drew me in. I am happy with how it ended, it's wasn't mind blowing, but a solid series ending.
All in all, I do recommend this series. It's definitely a good series and worth the read. I wasn't blown away by this final book, but it was a good ending to a solid series. I just had an issue with the beginning that made it hard for me to speed through it. It's a high 3 star rating, also a 4 but just didn't make it there.