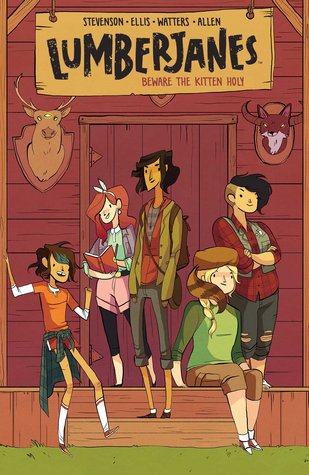 Lumberjanes Vol 1: Beware The Kitten Holy
Noelle Stevenson, Grace Ellis, Brooke A. Allen, Maarta Laiho
Yes, yes, a thousand times yes. This book was quirky, funny and absolutely fantastic. I loved it from the first page to the last. It's humour fit perfectly with my sense of humour. And the art was fantastic, the colouring alone was gorgeous. I need to pick up the next volume ASAP! The story is a little jumpy, but there is so much adventure packed in that I couldn't put this book down.
5 out of 5 Stars
Star Wars Vol 1: Skywalker Strikes
Jason Aaron, John Cassaday, Laura Martin
As we all know, I love Star Wars so this was just a fantastic time for me. This story takes place after the movie A New Hope. I loved seeing all my favourite characters back in action again. I absolutely adored the banter between Han and Leia. I always have and always will. This volume was action packed and I really enjoyed it.
4 out of 5 Stars
Deadly Class Vol 1: Reagan Youth
Rick Remender, Wesley Craig , Lee Loughridge
This was a surprising read for me. I didn't know what I to expect and I was pleasantly surprised. I really liked that this was a very dark story. The tone was necessary for this story about high school assassins. The art work isn't my favorite but I think it suited the story. I am definitely picking up the next volume.
4 out of 5 Stars