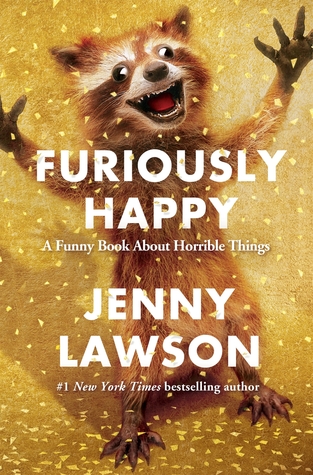 Genre:
Nonfiction, Memoir
Publication:
09/22/2015 by Flatiron Books
Pages:
329 Pages
Format:
Overdrive Audiobook
Rating:
5 out of 5 Stars
Goodreads
|
Amazon
|
Book Depository
Goodreads Summary
According to Jenny: "Some people might think that being 'furiously happy' is just an excuse to be stupid and irresponsible and invite a herd of kangaroos over to your house without telling your husband first because you suspect he would say no since he's never particularly liked kangaroos. And that would be ridiculous because
no one would invite a herd of kangaroos into their house.
Two is the limit. I speak from personal experience. My husband says that
none
is the new limit. I say he should have been clearer about that before I rented all those kangaroos."
"Most of my favorite people are dangerously fucked-up but you'd never guess because we've learned to bare it so honestly that it becomes the new normal. Like John Hughes wrote in
The Breakfast Club
, 'We're all pretty bizarre. Some of us are just better at hiding it.' Except go back and cross out the word 'hiding.'"
My Thoughts
This book is absolutely hilarious and for me it was incredibly relatable. I have anxiety and I couldn't help but laugh at Jenny's insights. I feel like I fit into her family of weridos who live on the internet. This book is written in essay format, which is common in memoirs. I do really like this format, it gives you really interesting insights into people without necessarily knowing their whole life story.
I also highly recommend the audiobook. Jenny Lawson tells her stories with such humour. I always try to listen to memoirs on audiobook, I love to hear the actual writer tell their own story. I know a lot of people are thinking "How can a book about mental illness be funny?", but it is. I am someone who looks for the humour in life, so I appreciate someone who can as well.
This book isn't just funny, it has a lot of heart too. I touches on some of the hardest and darkest parts of mental illness. It's nice to be reminded you are not alone in this. I highly recommend this book! It's everything I needed in a book. All the thumbs up.