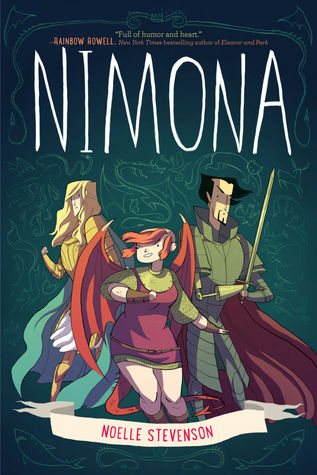 Genre:
Graphic Novel, Fantasy
Publication:
05/12/2015 by Harper Collins
Pages:
272 Pages
Format:
Hardcover
Rating:
5 out of 5 Stars
Goodreads
|
Amazon
|
Book Depository
Goodreads Summary:
Nemeses! Dragons! Science! Symbolism! All these and more await in this brilliantly subversive, sharply irreverent epic from Noelle Stevenson. Featuring an exclusive epilogue not seen in the web comic, along with bonus conceptual sketches and revised pages throughout, this gorgeous full-color graphic novel is perfect for the legions of fans of the web comic and is sure to win Noelle many new ones.
Nimona is an impulsive young shapeshifter with a knack for villainy. Lord Ballister Blackheart is a villain with a vendetta. As sidekick and supervillain, Nimona and Lord Blackheart are about to wreak some serious havoc. Their mission: prove to the kingdom that Sir Ambrosius Goldenloin and his buddies at the Institution of Law Enforcement and Heroics aren't the heroes everyone thinks they are.
But as small acts of mischief escalate into a vicious battle, Lord Blackheart realizes that Nimona's powers are as murky and mysterious as her past. And her unpredictable wild side might be more dangerous than he is willing to admit.
My Thoughts:
I just fell in love with this book. So far this year, graphic novels are the only things that have stolen my heart, maybe I even need to read more. Nimona is a fantastic, funny and surprising book. It look turns that I never expected it to take, darker more heartbreaking turns.
The setting of this book is very interesting. It takes place in what seems to be a medieval time with knights and jousting but then they also have advanced technology. It's a super interesting world, the technology is subtle but adds a lot to the story.
The winning part of this book is the characters. They are endearing, funny and just perfect in this story. Blackheart is a villain, but he is a villain with morals and rules. It's an interesting take, which I adored. Nimona is funny and powerful. She can be relatable but she also has secrets. I love the relationships between all the characters. Blackheart and Goldenloin have a complicated history and I was rotting for them the entire time.
I am a huge fan of this book. I highly recommend this to anyone, especially those who like graphic novels and fantasy. This is definitely a surprising book and it went a different way than I anticipated. The characters are stellar and everyone should at least give this book a try.